CDI promotes classically correct dressage training, aiming for the highest standards of care for the horse, and striving for excellence on the part of the rider.
About Chesapeake Dressage Institute
The Chesapeake Dressage Institute (CDI) was founded in 2003 for serious dressage riders of all levels to improve and refine their skills and progress to the upper levels of their sport. CDI, a not-for-profit educational institution, promotes the sponsorship of classically correct dressage training, aiming for the highest standards of care towards the horse and striving for excellence on the part of the rider, with emphasis on educational programs.
The Chesapeake Dressage Institute (CDI) operates at Waters End Farm in Annapolis, MD. Waters End Farm is situated on 75 acres of open fields and wooded trails, yet only three miles from downtown Annapolis.
Boarding with Training is offered.
The intimate 14-stall barn features stalls with outside windows, stall mats, fans, video monitors, and deep kiln dried bedding.
It features a regulation-size indoor arena with mirrors, state-of-the-art Equation footing that is dust-free and shock absorbent, energy efficient LED  lighting; as well as a regulation-size outdoor ring with a rubber/bluestone mixed footing.
Outside there are trails, open fields, and exercise hills.
Horses receive private turn-out daily (other than in adverse weather conditions) with boots and blankets in individual turn-out paddocks.
There is a climate-controlled tack room, bathroom with shower, a viewing lounge, and an arena sound system, and heated bleachers.
A full time groom is housed in the barn apartment where video monitors show the horse stalls and outside pastures, so that along with our scheduled night check, there is an added touch of security.
Additional stalls are available outside of the main barn area for clinic horses and the intake and processing of new boarders to safeguard against potential transfer of diseases.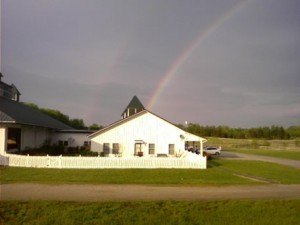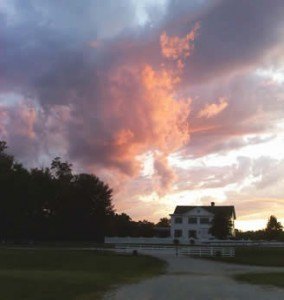 Boarding packages include private turn-out, choice of quality feed to suit your horses needs (3x daily), hay, daily stall cleaning, blanketing and boots for turnout, scheduling of health program, and worming (wormer additional). Matted stalls are 12 x 12 with windows facing outside as well as stall door windows that open to the inside isle of the barn. There are 3 heated wash stalls, individual tack lockers in climate controlled tack room, washer and dryer, and restroom with shower.
All boarders are required to take 2-3 lessons per week and participate in 1 clinic per year.
Our indoor arena has superb footing by Equation (www.equestriansurfaces.com) that is dust-free and shock absorbent.  We also have a regulation-size outdoor ring with a rubber/bluestone mixed footing.
At Chesapeake Dressage we:
Provide riding clinics which utilize recognized, credentialed trainers to increase knowledge of correct, classical training techniques and to also uphold recognized standards set by the U.S. Dressage Federation.
Host lectures and classes on complementary physical training for the rider, such as Pilates or Yoga.
Promote panel discussions and demonstrations by equine specialists on issues such as proper saddle fit; horse dentistry; lameness avoidance, diagnosis and treatment; preparation for long trailering and competition; emergency care; acupuncture; chiropractic; and equine massage.
Further discussion of the mind-body connection and mental training necessary for competition readiness, utilizing sports psychology, visualization techniques, and other modalities to sharpen competitive skills and reduce performance anxiety.
Host to PVDA schooling shows every year.
Weekly Trainers available to teach at CDI
The following trainers are available to teach at the Chesapeake Dressage Institute weekly.  If you would like more information about each trainer, including prices and availability please email MelissaAngersonCDI@gmail.com.
Bernardo Diaz Yarza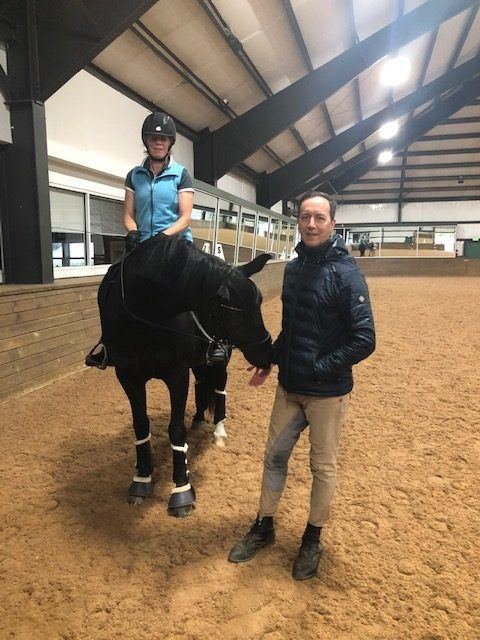 "To create a harmonious partnership with your horse, a rider must first find their own balance through proper rider position."
International Level Eventer and National Level Dressage rider, Bernardo Diaz Yarza, is available to teach at CDI weekly throughout the year.  Born and raised in Uruguay, Bernardo earned his certification as an Equitation Professor from the Uruguay Equitation School.  His first love was jumping, where he competed nationally and internationally in 3 days eventing and show jumping.  In 1994 and 1995 he was the Federal Champion in Eventing and in 1996 he was the National Champion in Eventing.  Bernardo is also an accomplished dressage rider, showing up to medium level.  He trained with Linda Zang for over seven years and clinics with Felicitas von Neumann-Cosel and Lendon Gray.  He has a passion for developing young horses and has coached several horse and rider combinations to success at local and regional competitions.  When teaching, Bernardo focuses on building his students' confidence by emphasizing sold fundamentals and proper rider equitation.  Forty years of riding, teaching, coaching and competition experience, makes Bernardo an excellent choice for the adult amateur looking to improve their dressage skills.
Susanne Owen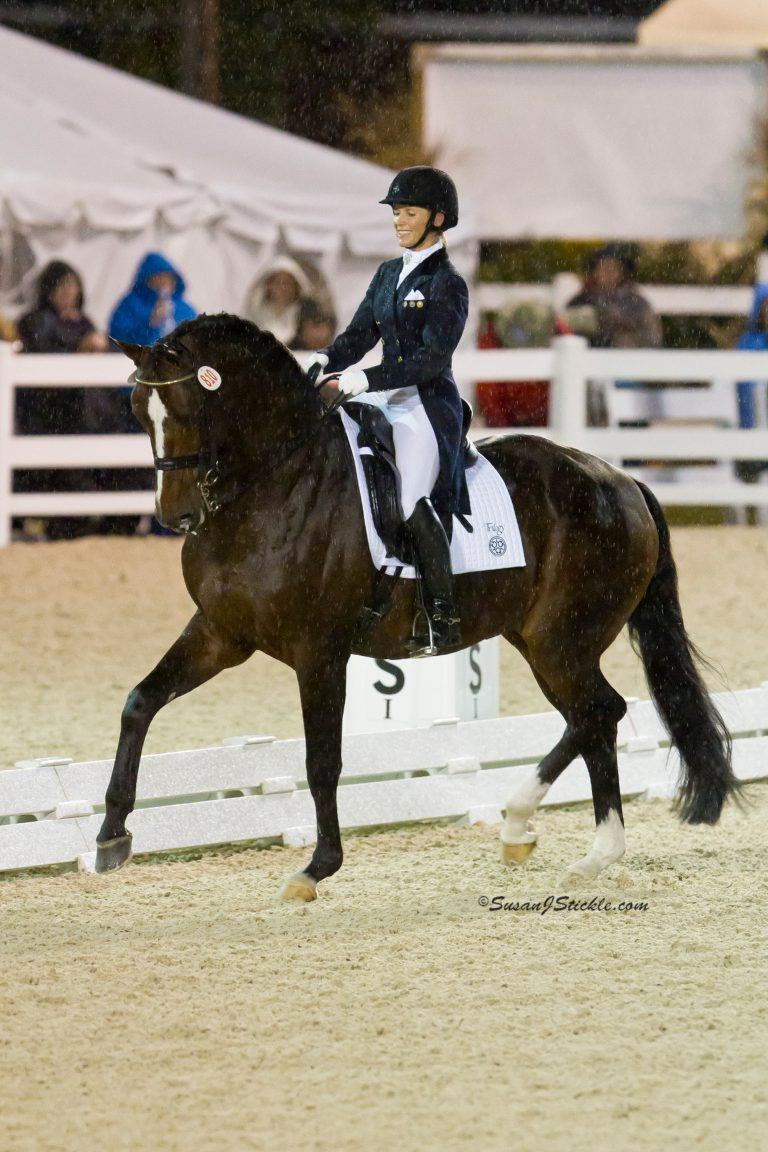 International Dressage competitor and USDF Gold Medalist, Susanne Owen, is available to teach weekly at CDI from September-May.  She twice represented the USA at the International FEI World Championships, with her 4th place finish being the highest placing ever for the US.  Susanne comes from a rich and storied dressage family; her grandmother, Carin Laurin Wold competed for Sweden in '56 Olympic Games, World Cup and World Championship qualifying events and her mother, Anita Owen, was an FEI C-Judge who judged at the Olympic Games in Athens.  Susanne trained extensively in Sweden under Christina Hermodsson, in Canada with Canadian Olympian Christilot Hansen-Boylen, in Germany with the legendary Herbert Rehbein, and later in her development under Harry Boldt, Steffen Peters, Kyra Kyrklund, and Charles deKunffy.  She also developed the internationally renowned breeding program at Hilltop Farm while actively competing their stallions from FEI young horse classes to Grand Prix.  Her last major professional platform was her family business, Hassler Dressage at Riveredge, where Susanne curated impressive educational events to promote their family training operation.  Susanne competed in CDI Grand Prix's from Wellington to Devon and is widely respected amongst her peers.  Susanne's holistic approach to training horses along with her sympathetic approach to teaching makes her an excellent choice for both adult amateurs and professionals alike.
Debra Wiedmaier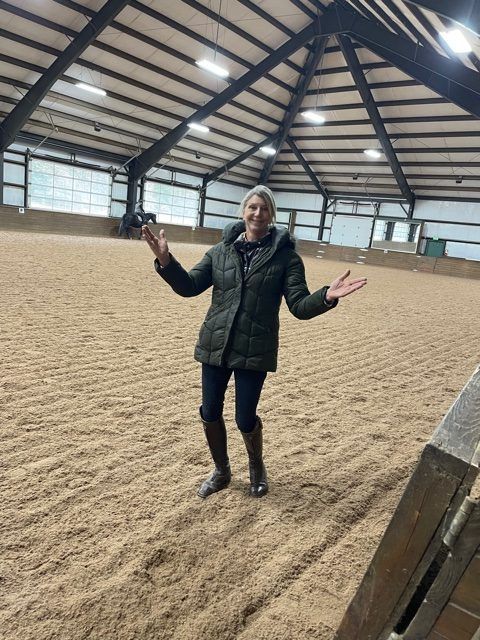 "My focus is on the partnership of horse and riders of all levels based on a systematic approach.  Having produced winning combinations for both amateurs and professionals alike is proof positive that my training system works."
International Grand Prix Rider, Debra Wiedmaier, is available to teach at CDI 1-2 days a week throughout the entire year.  Her qualifications are almost too numerous to list, but for starters, she earned her Young Rider Bronze, Silver and Gold medals in Germany and competed for the USET at home and in Europe.  Debra has trained 15 horses from scratch to Grand Prix, including 2 horses that were long listed for the Olympics.  She has trained with some of the greatest masters of our time including conrad Schumacher, Klaus Balkenhol, Robert Dover, Kyra Kirkland, Nuno Oliveria, and Patrick Le Rollard.  With over 45 years of experience teaching, showing and training horses, Debra is an excellent choice for the dedicated adult amateur and professionals looking to move up the levels.
Clinicians that teach at CDI monthly:
Felicitas von Neumann-Cosel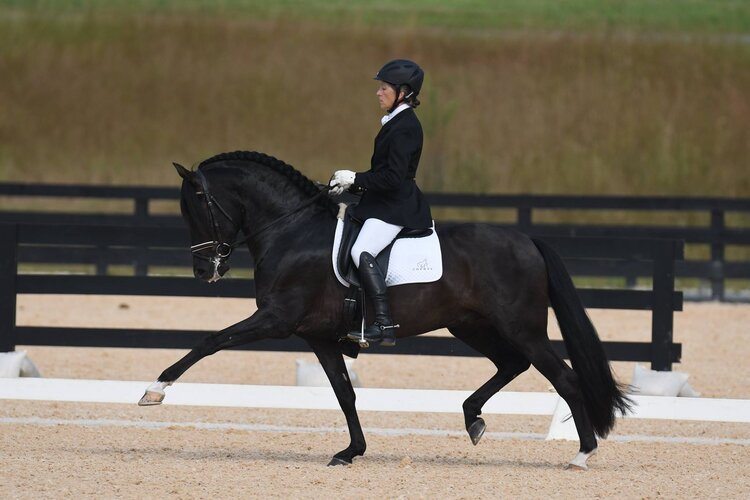 International dressage trainer and competitor, Felicitas von Neumann-Cosel, teaches clinics at CDI monthly throughtout the year.  Born in Germany, she completed her Reitlehrer certification before moving to the United States to teach at First Choice Farm in Woodbine, Maryland.  Felicitas has trained numerous horses to Grand Prix, including Roulette, who was ranked in the top 10 @ HOY Grand Prix, and Tonico do Top, who she won the BLM Grand Prix Championship with four years in a row.  She is also a frequent contributor to Dressage Today OnDemand and Practical Horseman.  With an amazing ability to analyze rider position and a positive communication style that focuses on using tools and imagery to correct rider position, Felicitas is an excellent choice for individuals who want to focus on improving their horse by first improving themselves.
Nicholas Fyffe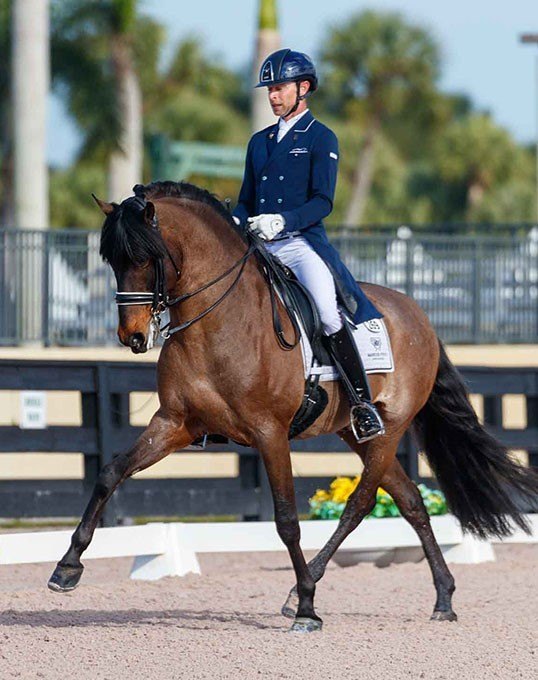 International Grand Prix competitor, Nicholas Fyffe, teaches clinics at CDI monthly from May through November.  After starting as an international Eventer, he switched to dressage, training extensively in Germany with top international riders, Martina Hannover Sternberg, Hubertus Schmidt, and Ulla Salzgerber.  Nicholas has qualified multiple horses for the World Young Horse Championships and has shown six horses to Grand Prix, including Fiero HGF, a PRE stallion he started as a three year old.  When he is not teaching clinics or competing, Nicholas and his partner, Canadian Olympian, David Marcus, operate their world class training facility in Wellington, Florida.  With a wonderful sense of humor and a clear, concise instruction style, Nicholas is an excellent choice for everyone from the serious adult amateur rider to the international competitor.
Note:  CDI also offers other International quality clinicians yearly.
For more information on available Trainers, Upcoming Clinics, Boarding or general questions please contact the following:
Main Office 410-267-7174
Marketing@ChesapeakeDressage.com
Check our Website Calendar or Facebook page
Chesapeake Dressage Institute Optional Services for Clinics
Overnight Stabling, $50/night
Day Stall Fee, $40/day
Auditing fee, $30/day
Important Documents - Please download, print, fill and return to us
Health Records and required vaccines for Arena Rentals and Clinics: 
New Policy for Strangles Vaccination – Recommended, not required.
All horses entering the Chesapeake Dressage Institute's property for clinics/training should be immunized for Equine EHV – 1 (either modified live or killed vaccine) no later than 90 days prior to arrival on the property.
CDI also requests that your horse's temperature be taken the night before and the day of your visit. Please know your horse's normal temperature. Elevated temperatures are one of the very first symptoms of potential Herpes.
Negative Coggins
Eastern and Western Encephalitis
Influenza
Potomac Horse Fever
Rabies
Strangles (recommended)
Tetanus
West Nile
Rhinomune Herpes-related ( EHV-1) vaccine (The Rhinomune vaccine should be given within 6 months of your visit to CDI, but not within the 7 days prior. It can actually be given up to four times per year. )
For shows only:
Proof of Rhinomune vaccination. This particular vaccine should be given within 6 months of the competition.
Proof of Strangles vaccination (if available/recommended only)
Negative Coggins
CDI is proud to be a member of the following organizations: