Janet Richardson-Pearson, Founder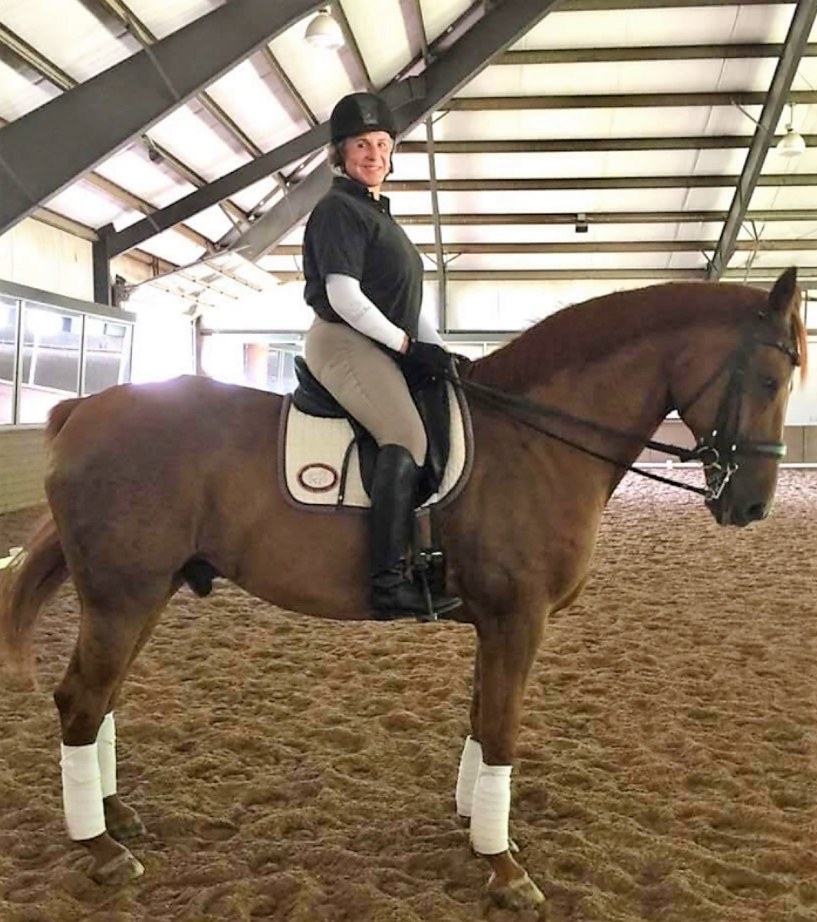 Founder Janet Richardson-Pearson created the Chesapeake Dressage Institute in 2003 to create the type of learning environment she dreamed of for herself, and other like-minded equestrians.
Never sitting on a horse until her mid-30's, she started riding dressage at Linda Zang's Idlewilde Farm soon after it opened. Busy in her career as a commercial interior designer, plus raising a family, and commuting to Baltimore left little time for more than a once a week lesson. As time went by, she was able to build a small barn and have a horse at home and was able to ride several times a week, mostly on her own. When she retired from active design work, she was able to purchase the former Mas Que Farm Xmas tree farm and build the facility of her dreams.
She has life-time membership in the Potomac Valley Dressage Association (PVDA), was one of the original founding sponsors of the Global Dressage Institute in Wellington, FL and a supporter of the Devon Horse Show and the PVDA Ride-for-Life. Maryland Therapeutic Riding began on her small farm, with her role as first founding sponsor supplying use of her facility and horses. She was on the Board of Talisman Therapeutic Riding on the Eastern Shore and a supporter of numerous horse related charities, including Days End Farm, Thoroughbred Placement Resources, Retired Racehorse Training Project, USDF, USET Foundation and Brook USA. In her 70's now, she is still riding 4 times a week and just completed her Century Ride with the age of the horse and rider equaling 100.
Executive Equestrian Center Supervisor
Angie Burnett, Executive Equestrian Center Supervisor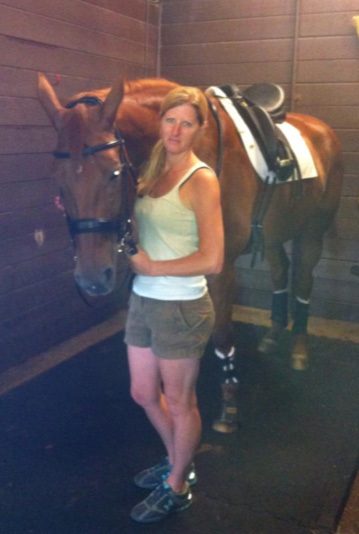 Angie has been in love with horses since she was 7 years old. At age 16 she knew her passion and started working on local farms.  Angie worked at Idlewild Farm for 7 years and managed a quarantine barn.  She brings with her over 30 years of equine experience; managing private and commercial facilities, working alongside trainers and equine veterinarians. Angie has worked for Janet Richardson-Pearson for 24 years and manages the day to day activities of our Equestrian Center including the stable, indoor riding center, storage buildings and surrounding grounds. Angie has played a vital role in the principles/practices, proper care/grooming, treatment and safety procedures here at Chesapeake Dressage Institute. Angie is a hardworking genuine person whose love of horses and all animals makes her a great asset to have at our Institute.
Equestrian Center Manager
April Plummer, Equestrian Center Manager
April was introduced to dressage at age 10, when she began taking dressage lessons and showing.  With a knack for training young and un-broke horses, she began helping a family friend start mules under saddles as well as re-training a neighbor's off the track thoroughbred.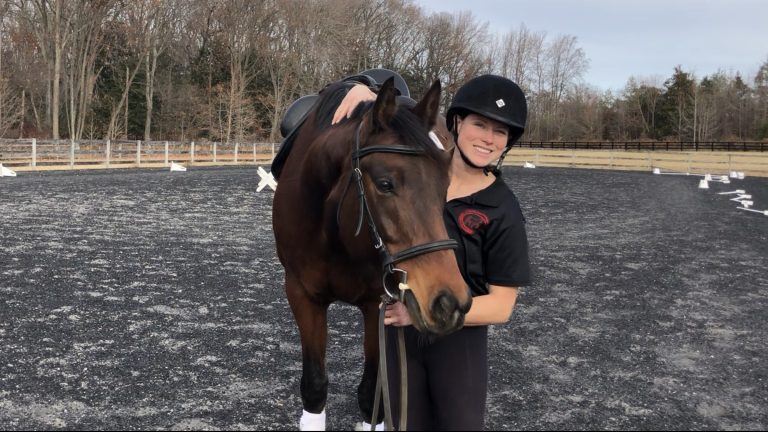 In 2009, she opened her own dog groom business right beside a tack store and she quickly began riding again.  In 2010 she purchased her first horse, an off the track thoroughbred, that she re-started and trained.  Then, in 2016 she adopted a Standardbred, re-starting him to be a riding horse as he only known pulling a sulky and racing.  Their partnership hit a career high 2018 when they won first place at The Great Frederick Fair Standardbred Show in the 2 gait hunter class.  In 2019 she decided to take the plunge and close her dog grooming shop to follow her dream of working with horses full time.  In June of 2021 she and her husband purchased their own farm on the Eastern shore.  A month later she began working full time at CDI, where she can pursue her passion for Dressage by participating in clinics and competing in recognized dressage shows.
George Williams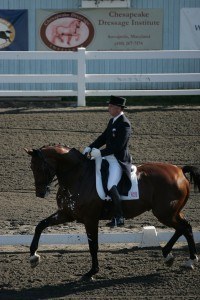 President of the United States Dressage Federation and a member of the United States Equestrian Federation Committee, George is a highly accomplished International Grand Prix competitor that is widely renowned in his field.
George Williams is a prominent figure in international dressage competition whose career highlights with Chuck and Joann Smith's grand prix mare, Rocher, include: three-time Dressage at Devon Grand Prix and Grand Prix Freestyle, 2005 United States Equestrian Federation/Collecting Gaits National Grand Prix Champion, team bronze at CHIO Aachen, 5th at the 2003 World Cup in Sweden, United States Dressage Federation Grand Prix and Grand Prix Freestyle Horse of the Year as well as being named Dressage Horse of the Year by the Chronicle of the Horse. George was co-winner of the USEF William Steinkraus Equestrian of Honor award for his success in 2005. Mr. Williams has been studying dressage since 1973 when he traveled to Germany to enroll at the Reitinstitute von Neindorff' where he earned his German Bronze Rider Medal. Upon returning to the US he began training with Karl Mikolka. George has trained in Germany with the former US Dressage team coach and Olympic gold medalist, Klaus Balkenhol, on numerous occasions.
In 1981 George became a resident rider and trainer for The Tempel Lipizzans in Wadsworth, IL in order to continue to work under his mentor, Karl Mikolka. From the summer of 2000 until the spring of 2009 he rode and trained for the Smiths at their Gypsy Woods Farm in Richwood, OH. On May 1, 2009 George started to ride and train for Elizabeth Juliano's Havensafe Farm of Middlefield Ohio and Wellington Florida. In addition he continues to teach and coach with Williams Dressage LLC.
George has successfully competed several horses for Betsy Juliano. In 2009 the Oldenburg gelding, Don Bailey was Reserve at the 2009 USEF Developing Horse Championships and in 2011 the Oldenburg mare, Horizon was Reserve in the four year old division at the USEF Young Horse Championships. He has had numerous wins, including at the USDF Regional Championships, on Cleopatra and Riccidoff as well.
Debra Wiedmaier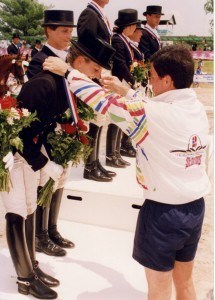 European born and raised, Debra studied with both Nuno Oliveria and the former head of the Cadre Noir, Patrick Le Rolland. She has represented the USET in Europe at International CDI competitions at the PSG and Intermediare I Level. Along with many placings and wins at the FEI Levels in both Europe and the U.S., she also trained 2 horses that were long-listed for the 1996 Olympics. Debra has been a consultant and friend to the Chesapeake Dressage Institute since its inception.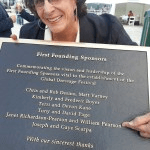 Plaque Presentation to First Founding Sponsors - Global Dressage Festival in Wellington, Florida
Chesapeake Dressage Institute founder Janet Richardson-Pearson and William Pearson, Chris and Rob Desino, Matt Varney, Kimberly and Frederick Boyer, Terri and Devon Kane, Tuny and David Page, and Joseph and Gaye Scarpa.