Rick Pelicano Clinic Bombproofing Your Horse
Bombproofing Your Horse
Here are photos from this valuable clinic held at The Chesapeake Dressage Institute.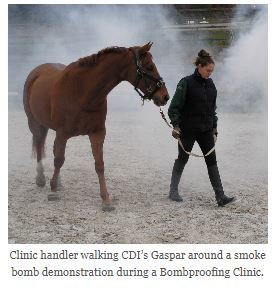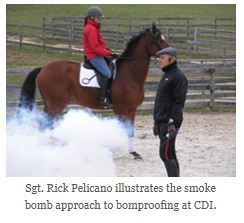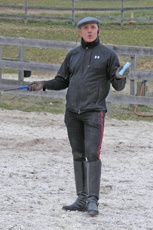 Wendy Marxen, Angie Burnett, Shari Packard, Betsy Novotny, Skogen, Lynn Puntiere, Kerrie Dash, Mary Ellen Ley and Janet Richardson-Pearson
The Chesapeake Dressage Institute was proud to host Bombroofing Your Horse, a clinic for handler, rider and horse conducted by Pelicano Equine Training, LLC. on December 2, 2007.
Rick Pelicano is a former mounted patrol officer with the Maryland National Capital Park Police and now a Level III Mounted Patrol Training Officer. He performed mounted security detail at the 1996 Olympics in Atlanta and attended a mounted police training course with the prestigious Royal Canadian Mounted Police. Rick is also the author of Spook Less and Bombproofing Your Horse.
Visit
 www.rickpelicano.com
The following article was displayed in the
January 2008 PVDA Newsletter.
On December 2, 2007, The Chesapeake Dressage Institute (CDI) was pleased to welcome and host a horse and handlers clinic Bombproofing Your Horse with guest Sergeant Rick Pelicano. Traveling across the country teaching others the "comfort zone" method, Pelicano Equine Training, LLC.'s owner Sgt. Rick Pelicano, actively extends his expertise and skills to other horse enthusiasts.
Instruction was provided initially with the horse under lead and then graduating to under saddle, all the while listening to a customized music cd of different sounds funneled through CDI's indoor stereo system. This cd provided such audio as traffic noises, children playing, dogs barking and show style noises to create the scenario and a bombproof acceptance to whatever noises could potentially arise while out horseback riding.
Auditors and Guests at the event were able to watch this presentation from CDI's heated stadium seating and while sipping hot cocoa from the indoor heated viewing-lounge connected to the oversized dressage in door-arena. The participants in this clinic experienced a course that initially brought horse and rider anxiety and then concluded with all of the participants and guests laughing and oohhing and ahhing while horse and rider competed in an indoor soccer competition from horseback! Fun and learning was had by all.
-Courtesy of Nancy Lee, CDI