CDI Trainer attends Professional Riders' Clinic
Wellington Classic Dressage Professional Rider's Clinic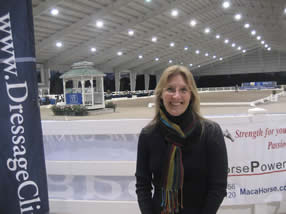 Lisa Gruen, onsite trainer at CDI, traveled from the cold of January to the unexpected chill of Florida to attend the Wellington Classic Dressage Professional Rider's Clinic and Symposium held January 16-17th. The program started at 4:00pm and lasted to around 11:00pm each day. Decorated tables were set up under the covered arena at the Jim Brandon Equestrian Center and circled the dressage ring. Spectators ate dinner and watched, while snuggled under jackets, hats and blankets, in the unseasonable chill. Enthusiasm was high as the program mainly focused on Hubertus Schmidt as he lectured while coaching riders Charlotte Bredhal, Jan Brons, Steffen Peters and others.
Bo Jena did demonstrations each night on long-lining and there were several sponsors and speakers but the main event was watching the improvement of each rider under the skillful teaching of Hubertus Schmidt.
Lisa said she really enjoyed watching Hubertus offer his input on Steffen's ride. She liked the instant rider feedback and impressions from the ground as these two very talented and knowledgeable trainers worked together. There was a lot to see with horses ranging from 5 years old to GP and to see how these top trainers train the ones, the piaffe and passage and which to do first. "It is always interesting to hear how the top trainers use the training scale and hear their experiences and philosophies" she said.
Hopefully we will all benefit from the "trickle down" effect of Lisa's observations and practiced eye as she watched the best of the best get instructions, too.
The next day she was able to watch several riders, including Betsy Steiner, in a small private clinic with Steffen Peters and observe even more closely the work of a master. We are working on getting Steffen back to MD again for another clinic so keep your fingers crossed.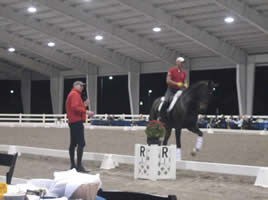 Hubertus Schmidt coaching Steffen Peters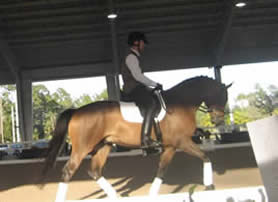 Jan Brons